Vivace® Radiofrequency (RF) Microneedling is the newest revolution in minimally invasive skin tightening and contouring for the face, neck and body. It works by stimulating your body's production of collagen to provide immediate results that improve over time. If you're ready to reduce or eliminate acne scars, age spots, stretch marks or wrinkles and achieve gorgeous, glowing skin—this microneedling treatment is for you.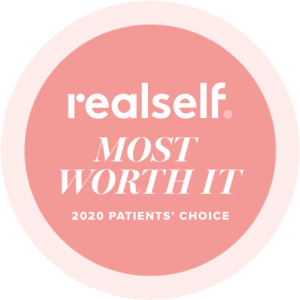 Am I a Good Candidate for Vivace® RF Microneedling?
Ideal candidates for Vivace® RF Microneedling may have mild-to-moderate signs of aging, including fine lines, wrinkles, sunspots, acne scars, enlarged pores or hyperpigmentation, and are looking to improve skin texture and tone. Unlike many others, this treatment is FDA-approved to improve skin issues anywhere on the body, so it can work on stretch marks as well. Vivace RF® Microneedling provides impressive results for people of all ages with any skin type, including people with tanned or darker skin.
How Does Vivace® RF Microneedling Work?
Vivace® RF Microneedling combines the benefits of traditional microneedling with the power of radiofrequency energy. The FDA-approved device uses ultrafine needles to penetrate the skin and deliver radiofrequency (heat) energy to deeper levels of the skin.
Delivering this energy directly to the lower layers of skin results in skin tightening with less downtime for patients, since the top level of skin remains intact. It also produces immediate results as well as results that appear over time as the deeper levels of skin regenerate and rise to the surface. Best of all, the radiofrequency energy can be completely customized to your exact skin type and desired goals, making it an excellent solution for a variety of skin issues.
What Can I Expect During the Treatment?
Even though the treatment consists of ultrafine needles and radiofrequency energy the Vivace® RF Microneedling is virtually painless. Most of our patients tell us it feels warm and slightly pinchy. One treatment takes between thirty minutes to an hour to perform, depending on the size of your treatment area. Your care provider at Nourished MedSpa will help determine how many treatments you need to achieve optimal results.
There is little to no downtime required after receiving Vivace® RF Microneedling. Once treatment is finished, depending on the level of your treatment, you can expect to be slightly pink to slightly pink and puffy. This will resolve in about 24 hours. Makeup can be applied in 24 hours. You will only be asked to avoid strenuous activities during the first 48-72 hours after treatment and avoid long showers or baths, which could trigger the face's natural response to flush. This is to keep skin vessels closed and improve the efficacy of the treatment.
When Will I See Results?
Immediately after your skin tightening treatment, your skin will be sensitive and slightly flushed, so it's essential to wear sunscreen, especially during this time. Within a day or two, this sensitivity fades and you will begin to see a more radiant, even complexion. Your skin will continue to improve over the next three to six weeks. The results should last for quite a while, as the production of collagen and elastin triggered by the treatment will continue to accelerate over six months.
For even more dramatic results, we can combine Vivace® RF Microneedling with Platelet Rich Plasma (PRP) Therapy, a process in which your blood platelets, growth factors and stem cells are re-inserted into your treatment area to repair and build new skin cells.
Nourished MedSpa and Wellness Center also carries dermatologist-grade skincare products available in our office that can be customized to meet your skin's exact needs and enhance your microneedling treatment.
Schedule your appointment at Nourished MedSpa for more information on how Vivace® RF Microneedling can improve your skin. We are eager to develop a customized plan to help you achieve healthier, smoother skin.